Ji Hyun Kim
bit bit bit who's this Sarawak baby bit bit bit (2022)
Bells, threads, acrylic, marker on canvas
bit bit bit who's this Sarawak baby bit bit bit mixes imagery of the bead patterns of a traditional Sarawak baby cradle and the artist's impression of the country. Her impression of the country derives from items sold at souvenir shops, consisting of mass-produced goods that are printed with icons and symbols and items that showcase the traditional crafts of the region. By using pixels – referring both to bead patterns and the unit of digital prints – as a main approach to weave these two impressions together, the artist evokes the elements and colours observed during the trip.


In traditional Sarawak culture, the pattern which adorns baby cradles, often with bells, signifies the identity of the family to which the infant belonged. The colour palette spans from vivid tones to natural colours, instead of representing the realistic colours of the place. Through the use of rendered colours, the work fuses memories of the trip and the patterns together, reflecting the distance between a tourist and a foreign region and culture.

---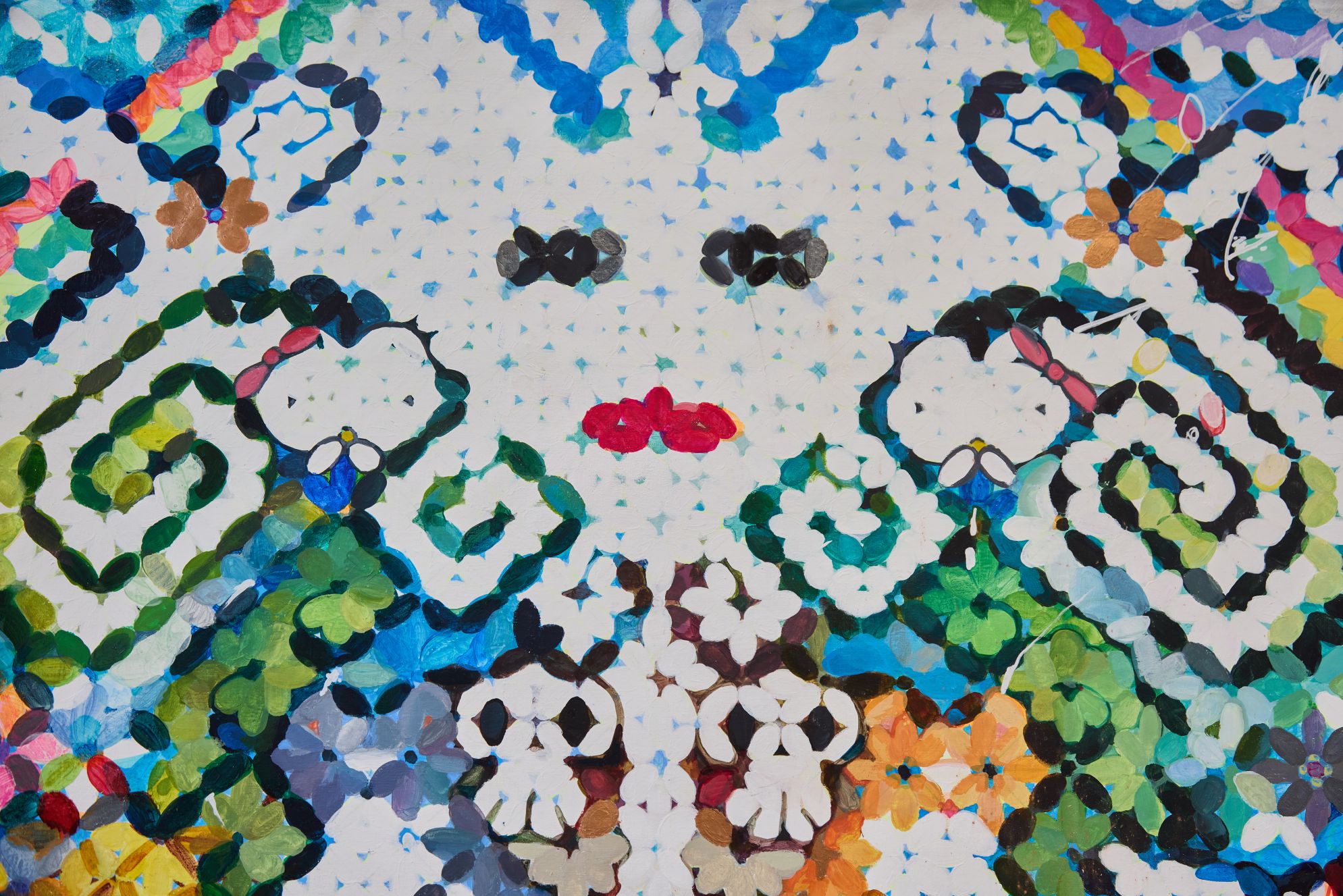 ---
Hazel Lim is a visual artist with a background in painting and employs text, crafting methods and drawings in her artistic practice. In her current research on the aesthetics of care, crafting techniques such as needlework and paper craft are used to investigate the utility of diagrams, image making and colour theory, whilst at the same time, interrogating the relationship of craft to the domestic and feminine.

Hazel currently leads the BA(Hons) programme in the McNally School of Fine Arts, LASALLE College of the Arts and has taken part in exhibitions showcased in Singapore, Indonesia, Korea, Ireland, Germany, Austria, US and Vietnam.

Hazel was an Associate Artist with Substation, Singapore from 2004–2012 and is one of the artists commissioned for Singapore Biennale 2013/2014 and showed her work entitled A Botanical and Wildlife Survey at the Singapore Peranakan Museum. She recently collaborated with her partner, Andreas Schlegel on a commissioned installation work, The Oort Cloud and the Blue Mountain for The Children Biennale 2019 in The National Gallery of Singapore and the Kinderbiënnale 2021 at Groninger Museum, Netherlands and Staatliche Kunstsammlungen Dresden, Germany, and Singapore Art Museum: Tanjong Pagar Edition, 2022.